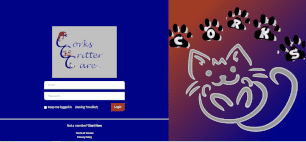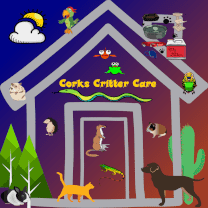 1. Contact Us
Contact us by filling out a form to become a new client or request a quote.
Call us a couple of days before your trip. 

  

403 807-6866

Call us two weeks  before major Holiday's

Request a

Quote
Once you have completed filling out the form or calling us we will schedule your Initial Orientation Visit before your departure.  
2. Initial Orientation Visit
An in-home visit with pet and owner prior to contracted service with a key pickup/payment agreement.
When you register online or call Corks Critter Care, she arranges a visit to your home shortly before you leave.
Initial Orientation Visit is required prior to reservations for all new clients.
3. Upon Your Return
When you return home please

 log in to  

Corks Critter Care Pet Care App to confirm that your pet(s) are back in your good care, and services will be discontinued.
When you return home you can also call Corks office at  403 807-6866
We will return your key if desired or keep the key in a safe for the next time your in need of our services.
Payment Methods
PayPal, Stripe, Cash, or Email Transfer.

Email Transfers are sent to 

corrine@corkscrittercare.com

During any statutory or civic holiday, there's an extra $5 per holiday.
Time of payment and your total cost will be determined in our initial orientation visit with you.  All clients have different needs and situations as a result fees will vary.
Please contact us for any inquires and rates. 

Request a

Quote here

Phone

  403-807-6866 

during office hours (8am-5pm)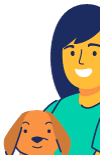 The genuine love and concern the staff at Corks Critter Care Home & Pet Sitting Services has for animals is the reason why our Calgary-based business is thriving. The owner, Corrine, also known as "Cork", is an avid animal lover and understands the need for a reliable pet services company to help owners and their pets during those long days at work or when they are out of town.

Consistent
Your pets will appreciate their ability to remain in their own familiar surroundings and stick to the routine they've grown accustomed to. Corks Critter Care Home & Pet Sitting Services offers a solution you can rely on—consistent, loving care and personalized attention for your beloved pet.

Corks Critter Care Home & Pet Sitting Services incorporates all the best aspects of professional pet services with friendly, reliable, and loving care for your pet. Our Interactive website and Pet Care  Program allows clients to book our services on short notice. We try our best to accommodate last-minute requests.  Our online portal provides a secure and effective scheduling system to make sure every pet is tended to.  It also is the main hub for communication with our office and your Custodian that's looking after your loved ones and home.
 We strive to give your pets as much Tender Love and Care as you would and to promote your pet's health and well-being...learn more

Qualifications
Licensed, Bonded and Insured
Police Service Background Checked and Passed

Veterinary

Used

and

Recommended

Certified in

PET FIRST AID

and

CPR.
Customer References
Have a Contingency Plan in case of personal illness or emergency.  Veterinarian on call.
Cork attends pet-related Continuing Education
Cork has years of Experience nursing and caring for various types of pets.
Cork uses a written Contract
We leave a Report to document pet's activities, behavior, and health.
You can travel with Peace Of Mind and your pet will be home to greet you when you arrive.
Member of the following organizations:
Services
Professional pet care providing pet sitting, dog walking, animal nursing to beloved pets of all species.  Click here to learn more about our services. 
Pawsitive People Apply Now!
Watch these 2 videos to learn how to apply and why you will love to join our pawsitive team!