Ready to schedule a Virtual Initial Orientation Visit?
via Zoom.us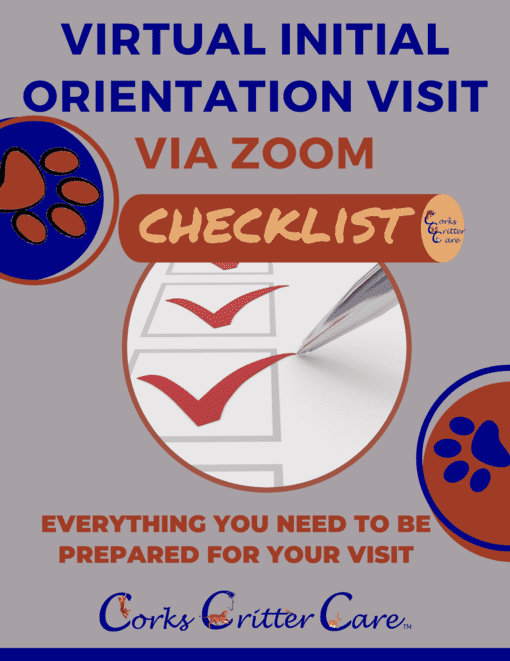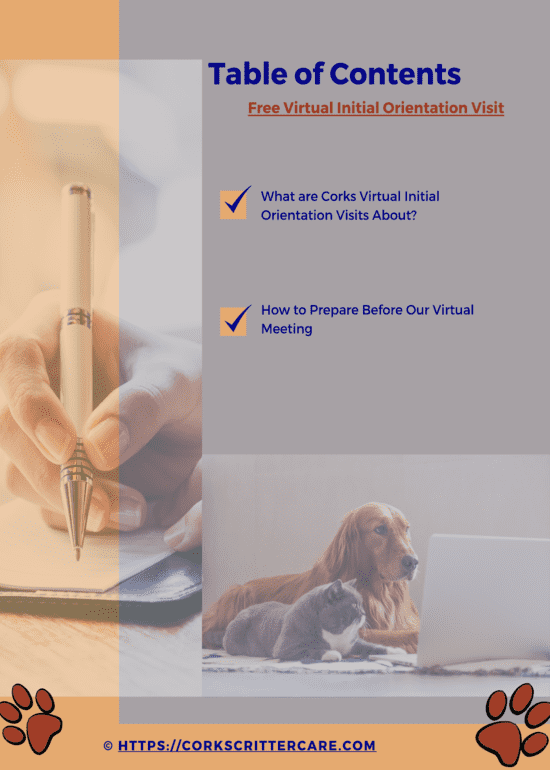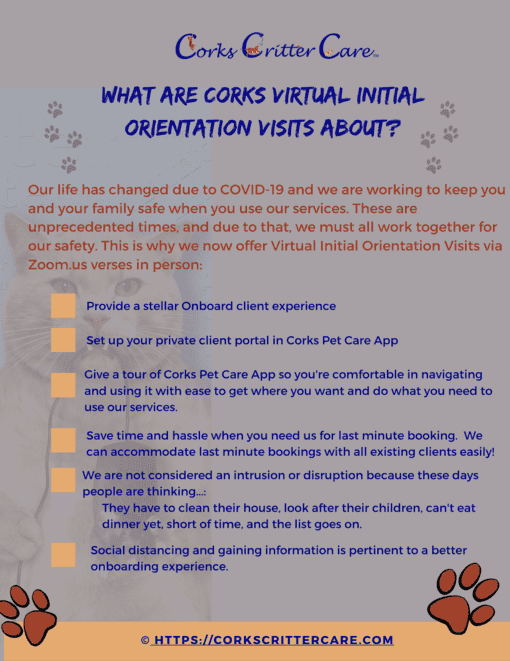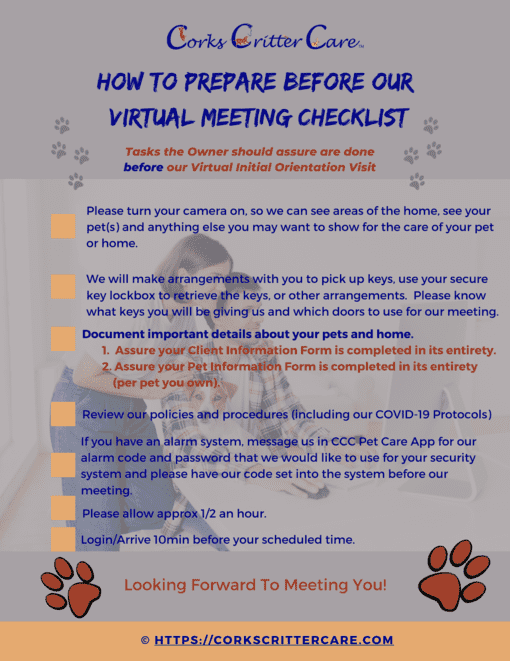 1. Contact Us
Contact us by filling out a form to become a new client or request a quote.
Call us a couple of days before your trip. 

  

403 807-6866

Call us two weeks  before major Holiday's
Once you have completed filling out the form or calling us, we will schedule your In-Person Initial Orientation Visit before your departure. 
2. Initial Orientation Visit
An in-home visit with pet and owner prior to contracted service with a key pickup/payment agreement.

Once you have completed filling out the form or calling us we will schedule your

In-Person Initial Orientation Visit before your departure. 
📝 

Initial Orientation Visit is required prior to reservations for all new clients.
3. Upon Your Return
When you return home please

 log in to  

Corks Critter Care Pet Care App to confirm that your pet(s) are back in your good care, and services will be discontinued.
When you return home you can also call Corks office at  403 807-6866
We will return your key if desired or keep the key in a safe for the next time your in need of our services.
Payment Methods
PayPal, Stripe, Cash, or Email Transfer.

Email Transfers are sent to 

corrine@corkscrittercare.com

During any statutory or civic holiday, there's an extra $5 per holiday.
Time of payment and your total cost will be determined in our

initial orientation visit

with you.  All clients have different needs and situations as a result fees will vary.
Please contact us for any inquires and rates. 

Become a Client

Book Today!
Request a Quote

here

Phone

  403-807-6866 

during office hours (8am-5pm)
I engaged Corrine with Corks Critter Care based on a recommendation from a colleague and have and will recommend Corks Critter Care to anyone who needs a qualified and reliable pet sitter. After meeting Corrine and having the initial meeting with her to meet my cats and to show her around my house, I was confident that I could trust her to take care of my fur-babies. With senior cats, as time went on, each cat had their own needs and issues, but I knew I could rely on Corrine to take care of them as a Registered Veterinary Technician. My final two cats required very special care near the end that I trusted in Corrine to take care of when I had to be away. One had a cancerous tumor on her chest that required cleaning, treating, and bandaging regularly and the other required a special diet and medication twice a day. Not only was I comfortable in leaving them to Corks Critter Care, but I also knew with Corrine's veterinary experience and training that if something changed or if their health declined, she would notice and be able to deal with it. I trusted her with my fur-babies and would recommend her highly to anyone with pets.
I am so very fortunate to have found you!  A first-class, reliable service is always provided. I am able to relax and enjoy my time away, knowing my beloved cat is well cared for in her home and I would not hesitate to recommend your services to others
Corks Critter Care looked after Megan, my non-traveling dog just did not like cars.  Each dog agility trial, I felt 100% confident in leaving Meagan in great hands, Megan loved each time Corine showed up to visit.